DIPLOMATIC TALKS SEMINAR STARTS OFF IN HIGH GEAR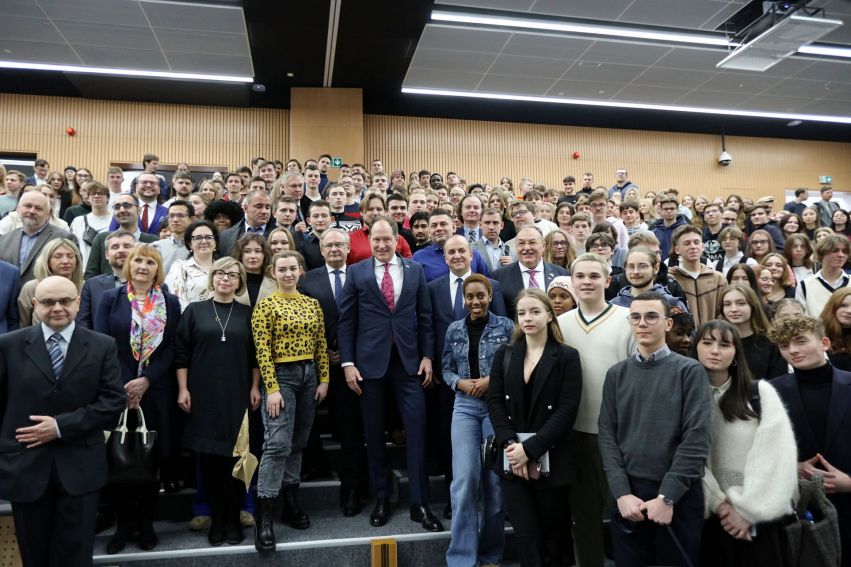 On December 7, 2022, within the walls of the Faculty of Political Science and Journalism at Maria Curie-Sklodowska University in Lublin, the inaugural Diplomatic Talks series of meetings started off in high gear. Headlining this historical and unique event was the Ambassador of the United States of America to Poland, H.E Mark Brzezinski.
The event was historical because it is the first meeting organized by the Institute of Political Science and Administration of UMCS under the Diplomatic Talks series of seminars. Unique in nature because the first guest H.E Mark Brzeziński is a political science academician- educated at Oxford University, a sitting US Ambassador, and one of the most famous American diplomats in the world.
Important to mention too is that the event was successful because the faculty hall was literally "filled to the brim" in attendance were students of UMCS, graduates, academic teachers, and Lublin high school students. 
During the speech, the US Ambassador to Poland, HE. Mark Brzezinski, made reference to his Polish roots, the experience of participating in the Fulbright program when he was in Poland as a scholarship holder, and his diplomatic career. In addition, he talked about the welcoming nature of Polish people and the role they have played in welcoming all people fleeing the war in Ukraine.
After his speech and remarks, this was followed by a Q & A session, the Ambassador was asked about: The role of the leadership of the United States of America and Poland in the context of the ongoing war in Ukraine, the involvement of women in politics and the importance of diplomacy in international relations, among others.
(Photo: Klaudia Olender)