LUBLIN SCIENCE FESTIVAL WINNER OF THE AWARD – PROMOTER OF SCIENCE 2022 COMPETITION!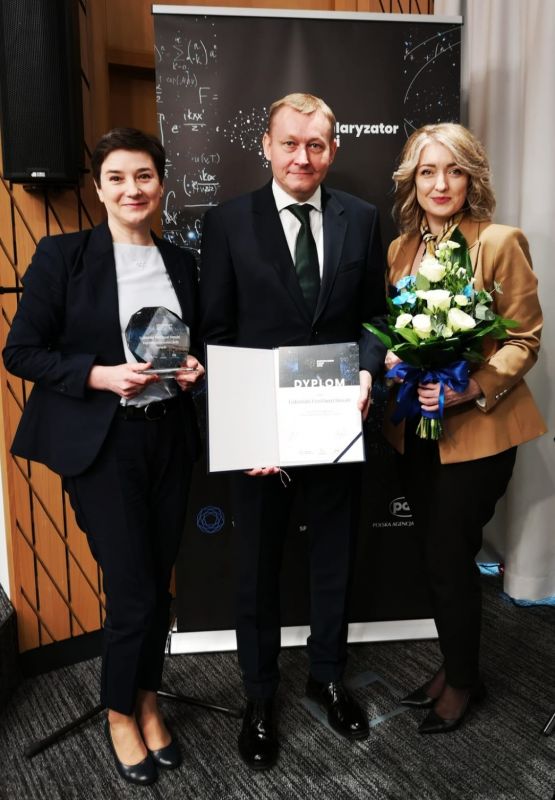 We are extremely pleased to announce that Lublin Science Festival won the promoter of Science 2022 competition in the "Team" category! The gala of the competition was held on December 9 in Warsaw. Among the 17 finalists, the jury selected the winners from five categories; Animator, Scientist, Team, Institution, Media, as well as the final award of grand prize winner.
Maria Curie-Sklodowska University was represented at the ceremony by the Vice-Rector for Students and Quality of Education, Prof. Dorota Kolodyńska, and LFN coordinator Dr. Monika Baczewska-Ciupak. Also present was Prof. Adam Wasko, Vice-Rector for University Development from the University of Life Sciences in Lublin.
The jury appreciated the activities of Lublin's public universities, the City of Lublin and the co-organizers for the promotion and elevation of science and scientific research in society. Recall that the Lublin Science Festival is the largest cyclical event for the promotion of science in Lublin and neighbouring regions, and – due to the number of participants – one of the largest science festivals in Poland.
The mission of promoting knowledge about scientific research, tools, technologies and challenges of scientists is carried out at the Festival in the form of lectures, workshops, exercises, exhibitions, performances, competitions or field games, among others. Eighteen editions of the event have been held so far and more than 16,000 projects have been submitted.
We are very pleased with this nationwide success of the Lublin Science Festival, and at the same time thank the academic community of UMCS for their annual commitment to the event. The success of the LFN is also thanks to you!
Other nominees besides LFN for the award in the "Team" category were; Summer Encounters with Science – Ewa, Marek and Waclaw Kulczykowski and the Trio from Krakow – Karol Dudek-Różycki, Michal Plotek, Tomasz Wichur.
The prestigious Science promotion contest has been organized since 2005 by the Polish Press Agency's Science in Poland service in cooperation with the Ministry of Education and Science. Seventeen individuals, teams, institutions and media representatives entered the final of the 18th edition of the contest. The entries were judged by a jury composed of representatives of the scientific community and science promoters. The jury was chaired by Prof. Michal Kleiber – vice president of the European Academy of Sciences and Arts, long-time president of the Polish Academy of Sciences, former minister of science and informatization and one of the initiators of the competition.
Source of information: PAP Science in Poland