Member of UMCS Welcome Center part of panel at European Economic Congress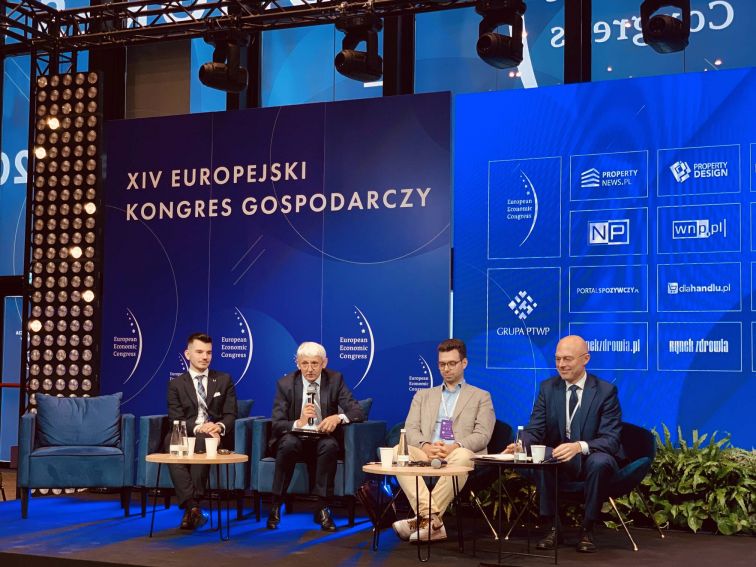 On April 25th 2022, Maciej Cieciora a first year second cycle student of International Relations at the Faculty of Political Science and journalism of Maria Curie-Skłodowska University in Lublin was invited to speak at the 14th edition of the European Economic Congress in Katowice. This for the first time was closely accompanied by the inaugural European Forum of Young Leaders which due to the pandemic was not possible for the past two years.
Maciej Cieciora together with other speakers on the main panel namely: Hon. Maryna Popatenko (Deputy Minister of youth and sports in Ukraine), Hon. Mikulas Dzurindan (former Prime Minister of Slovakia 1998-2006), Dr. Paweł Poszytek (Director general of the Foundation for the Development of the Education System, Erasmus +), Dr. Michał Kurtyka (Minister of Climate and Environment 2019-2021) and Rafał Sonik (President of the Management Board of Gemini Holding) deliberated on the topic "Europe and the World 2030". During the deliberations Maciej was able to present his views on the position of young Europeans especially in light of the current crisis in the East.
In his remarks Maciej Cieciora stated –" For me, participation in this event was an enormous dose of knowledge about geopolitics, security, economy, government and international relations. I am glad that I was able to present my perspective of the future world and exchange views with other participants at the congress having experiences in diverse areas of life.
We congratulate Maciej Cieciora for a job well done at the European Forum for Young Leaders and continuously wish him well in future engagements.