THE FIRST INTER-UNIVERSITY ENGLISH-LANGUAGE SUSTAINABILITY MANAGEMENT STUDIES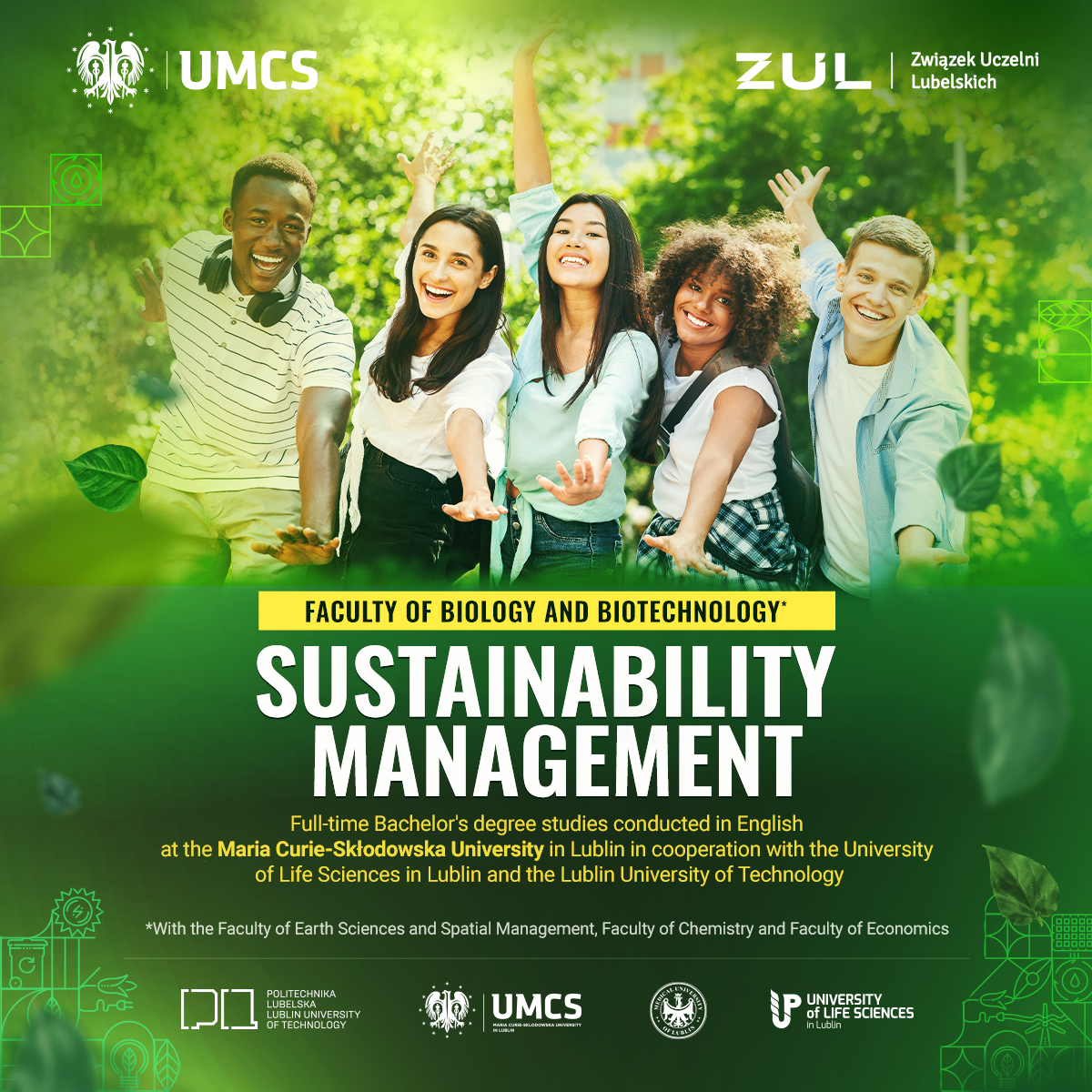 Maria Curie-Skłodowska University in Lublin, the Lublin University of Technology and the University of Life Sciences in Lublin have joined forces to create interdisciplinary, English-language full-time undergraduate studies in Sustainability Management. This is the first inter-university study within the Union of Lublin Universities. 
Take up studies in a unique field of study resulting from multidimensionality and synergy, using the potential of specialists in narrow fields – as an answer to the complexity of the problems of modern economies. The concept of studies assumes overcoming the division into monothematic scientific disciplines in academic education and enables opening to dialogue. And it is necessary to prepare you, as a graduate, to correctly perceive and solve complex problems of modern civilization.
During the education process, you will gain skills to act in management and expert staff. In addition, you will acquire competencies in identifying and crafting solutions to the most current problems of the modern world regarding climate change, natural threats, the deficit of water resources, the transformation of ecosystems and the reduction of biodiversity and energy security. At the same time, you will competently carry out tasks related to the responsible management of natural resources and effective solving of environmental problems while ensuring the possibility of sustainable socio-economic development. This comprehensive knowledge will allow you to look holistically at the issues of the modern world and look for new unconventional solutions.
The Faculty of Biology and Biotechnology and the Faculties of Earth Sciences and Spatial Management, Economics and Chemistry will implement the study program at Maria Curie-Skłodowska University. The program will include models of Economic Growth and Development and Earth System Dynamics. And what is essential for future students – instead of writing a classic diploma thesis, you will complete a practical project and pass a theoretical exam.
As a graduate, you will be prepared to work in organizations, enterprises and units related to environmental monitoring and protection, consulting in environmental protection and sustainable socio-economic policy, as well as environmental resources management and broadly understood educational activities for sustainable development.  
Link- https://rekrutacja.umcs.pl/en/test-bachelors/ba-sustainability-management/
Authored by Monika Kusiej